LYKKE Crafts needles are a line of state-of-the-art tools with a rustic charm that perfectly accompany any project. Knitters will find them delightfully warm to work with in the winter months, yet cool to the touch when knitting outside in the hot summer. LYKKE needles present a happy medium where stitches stay put but easily glide off when worked, and are ideal for a wide range of uses.

LYKKE Crafts was founded in 2017 by Sion Elalouf, who opened a local yarn store in Long Island in 1974 before focusing on yarn distribution at Knitting Fever Inc in the 1980s. Since it's relatively recent beginning, LYKKE has expanded into several lines of knitting and crochet tools in just a few short years.
LYKKE (pronounced LOO-kah) is named for the Norwegian word for "happiness". LYKKE needles are prized for their craftsmanship: each one is handcrafted in Kathmandu, Nepal by an artisan without any mechanized automation. LYKKE needles are constructed with a blunter tip and a rather short taper, making them ideal for maneuvering yarns with a loosely spun ply or plant based fibers like cotton that are prone to splitting.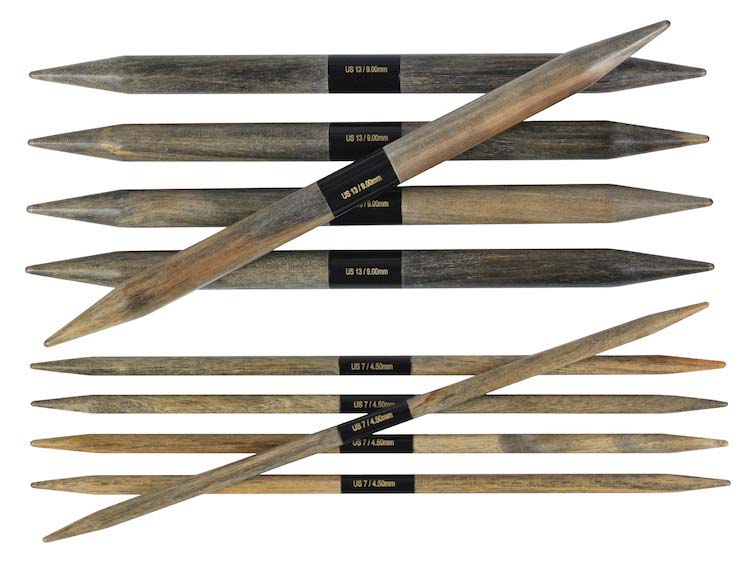 Driftwood Collection
The LYKKE Driftwood collection is made of birch wood, a popular material for crafting tools due to its flexibility and tight wood grain. This material makes the needles perfect for those who find metal needles too slick and bamboo too grippy. There are many birch wood-based knitting needles on the market, such as KnitPro and Knitter's Pride Dreamz, but Lykke's Driftwood needles differ from the competition in that each pair has been infused with a specially-toned resin rather than coated or stained at the surface-level. This process allows for more subtle color variation instead of a uniform color application, and the effect is much like driftwood found on the shore.
LYKKE Driftwood Needles are available in three colors: original Driftwood (taupe), Indigo (blue), and Umber (warm brown):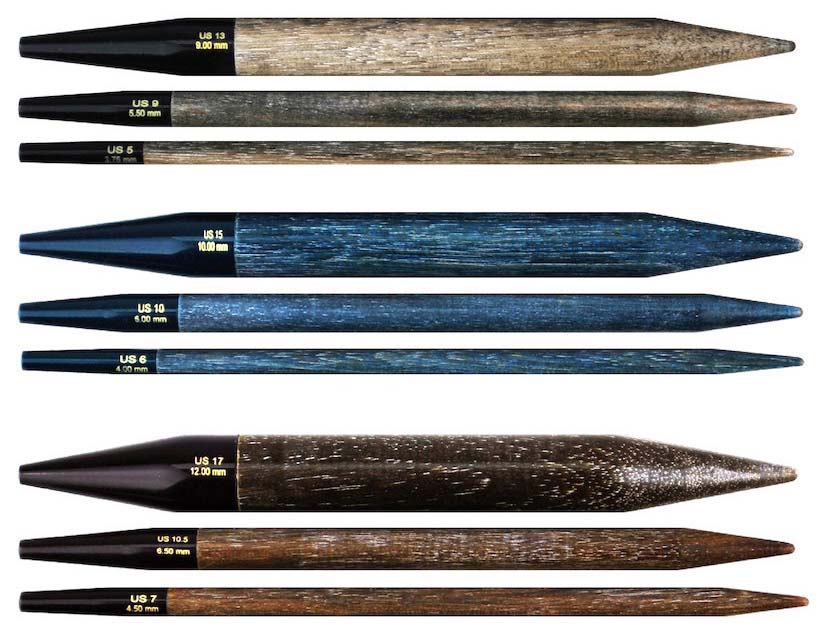 For those looking for individual pairs of needles, LYKKE produces straight, fixed circular, and double pointed needles. The fixed circular line spans from size US0 to US17 and are available in 12, 16, 24, 32, 40, 47 and 60 inch cords.
LYKKE offers straight, or single-pointed, needles from size US2 to US17 in both 10 and 14 inch lengths. For those who exclusively enjoy using single pointed needles, LYKKE offers ​straight knitting needle sets ​consisting of twelve pairs ranging from US4 to US17 in both 10 and 14 inch lengths.
For socks, mittens, and finishing off the points of hats, the double pointed needles range from US0 to US13, and are only available in the 6 inch length. Knitters who enjoy small circumference projects may want to invest in one of the two available double pointed needle sets. The ​smaller range​ consists of eight sizes - US0, US1, US1½, US2, US2½, US3, US4, and US5; a solid option for sock knitting. The ​larger set​ consists of eight sizes ranging from US6 to US13 - perfect for sleeves on bulkier sweaters or slippers. All of these sets come in the standard Driftwood, Umber, and Indigo finishes.
Interchangeable Sets
For those looking for a gift for the knitter in their life, LYKKE interchangeable are an ideal choice with their homey aesthetic and wide range of options. LYKKE has an expansive line of interchangeable products for both Knitting and Tunisian Crochet. All sets include two cord connectors, eight stoppers, and four keys to tighten the junction between needle and cable.
The cables for the sets are made of flexible plastic, similar to other sets on the market such as Knitter's Pride or Knit Picks sets. Like most other interchangeable knitting needles sets, the connection between cable and needle joins tightly with the turn of a key (although by including 4 keys, you'll have plenty of spares if you misplace one).
The ​LYKKE Long Interchangeable knitting needle set may be a perfect fit for those who make blankets, large shawls, and garments with a circumference greater than 40 inches. This set has the materials for "longer-than-average" cables, and has cords to make 38½, 46½, 53½, and 66½ inch sets. The needle tips also vary in length, with US7 through US9 coming in at the standard 5½ inch length, US10 - US11 measuring 6½ inches, and US13-US17 measuring a whopping 7½ inches long.
LYKKE Interchangeable Needle Sets
| Needle Size | Long Tip Length | Short Tip Length |
| --- | --- | --- |
| US3 | - | 3½" |
| US4 | - | 3½" |
| US5 | - | 3½" |
| US6 | - | 3½" |
| US7 | 5½" | 3½" |
| US8 | 5½" | 3½" |
| US9 | 5½" | 3½" |
| US10 | 6½" | 3½" |
| US10½ | 6½" | 3½" |
| US11 | 6½" | - |
| US13 | 7½" | - |
| US15 | 7½" | - |
| US17 | 7½" | - |
For those who enjoy smaller projects such as hats, the​ 3½ inch interchangeable circular knitting needle set​ is a great purchase. This set ranges from US4 to US10½ and has the cables to make 16 inch, 20 inch and 24 inch needles. The 3½ inch set is available in both Driftwood and Grove finishes. We previously recommended them in our Best Knitting Needles for Intarsia and Fairisle​ article.
For the versatile fiber artist, LYKKE also makes a ​crochet hook set​ that is compatible with all their interchangeable knitting needles, which is perfect for those who enjoy Tunisian Crochet, for picking up stitches for edgings, or even as traditional crochet hooks when used without the cord. The set can make a Tunisian Crochet hook cable of 21½ inch length, two for 29½ inch, and one for 37½ inches. Included are crochet hooks in twelve sizes.
LYKKE Tunisian Interchangeable Crochet Hook sizes
| US Hook | Metric Hook |
| --- | --- |
| US E-4 | 3.5 mm |
| US F-5 | 3.75 mm |
| US G-6 | 4 mm |
| US 7 | 4.5 mm |
| US I-9 | 5.5 mm |
| US J-10 | 6 mm |
| US K-10½ | 6.5 mm |
| US L-11 | 8 mm |
| US M-13 | 9 mm |
| US N-15 | 10 mm |
| US P-16 | 11.5 mm |
Very Pink Knits​ and others report a chemical-like smell when first opening the vegan leather case, but the odor dissipates within a few days.
Grove Collection
LYKKE Craft's latest addition to their catalogue is the Grove collection made of bamboo. Named for the grove where their material grows, these green and beige needles are designed to resemble bamboo shoots. Grove bamboo needles are even more lightweight than their birch wood counterparts and are ideal for those looking for more flexible needles that are gentle on the joints.
Currently, the Grove Collection is available as both 3½ and 5 inch interchangeable sets. Both Grove interchangeable sets also offer an option for two different carrying cases. Knitters who enjoy a pop of color will appreciate the chartreuse basketweave case. For those with more subdued tastes, the natural beige jute canvas case is a subtle yet classic look for your case.
Author Mary Claire Phillips contributed this article. If you're interested in reviewing and writing for the Knitting Needle Guide, please get in touch!
---