Trying to decide between DPNs, fixed circular needles for Magic Loop, or 9" circulars for your next sock project? Check out this review of the best sock knitting needles.
If you're ready to start knitting socks, you may be surprised to realize that not just any knitting needle will do. The needs of sock knitters are so specific, and so varied based on pattern, gauge, and fiber, that there is a micro-industry of specialized sock knitting needles designed especially for narrow, tubular projects. Below, we'll go over the pros and cons of each option in detail.
What do you need for easy sock knitting?
Knitters new to sock knitting should look for needles that will prevent some of the key hazards of knitting small, in-the-round projects with fine-gauge yarn:
dropped stitches,
lost or broken needles,
twisted joins, and
cramped hands
Bad habits or clumsy articulation are only exascerbated in detail work like sock knitting, so if you haven't taken the time to get the right needles before, now is definitely the time to up your knitting needle game.
You'll want to find needles that offer the right amount of grip, so that your needles don't slip out of the work, while also not being so tight or stiff as to prevent the stitches from flowing smoothly or cramp your hand after a few moments of knitting. Your own preferences for gauge and project will also affect what needles you find comfortable.
Toe-up or Cuff-down?
Knitting a sock toe-up is very different experience from cuff-down, and different needle setups are easier based on the pattern's construction method.
If you start from the toe and work towards the heel and ankle, you're starting at the narrowest part of the project and slowly growing larger. The toe-up method front-loads the most fiddly work like special cast-ons and organizing the stitches around your needles, leaving the 'easier' cuff work for the end (and allowing you to adjust the cuff length based on available yarn).
In toe-up, the added stress of keeping 4-5 small double-pointed needles in order can be exasperating early in the project, where there's just a scant row or two of stitches to hang on to.
On the other hand, cuff-down socks start out simple, giving you enough 'body' of the work to use while doing the heel turn and toe decreases. While there are typically more cuff-down sock patterns, they do require the chore of grafting the last row of stitches together at the toe.
Sock Knitting on Double Pointed Needles (DPNs)
The awkward nature of casting on and dispersing the first row of stitches around 3-5 double-pointed needles (DPNs) can be frustrating even for seasoned knitters.
Narrow DPNs — especially those made of slick aluminum — tend to slide around, risking dropped stitches — or worse, twisting while joining in the round, producing a Möbius shape instead of the desired tube. There's also a tendency for socks knitted on DPNs to develop an unsightly 'ladder' effect at the column of stitches between the two knitting needles.
Socks are usually knit on size US3s or smaller, so DPNs of this thickness can be quite delicate. Lightweight metal needles can bend and bamboo may crack and splinter, particularly if the knitter has a tight gauge or the pattern calls for a lot of dense increases.
Despite our best efforts, we find we break or drop a DPN a few times a year with frequent sock knitting, and a set of less than 4 DPNs is nearly unusable. For these reasons, we don't recommend the classic all-DPN approach to sock knitting for new knitters, and suggest even experienced DPN knitters give some of the new innovations in sock knitting a try.
If you are interested in trying DPNs, we suggest staying away from cheap aluminum or bamboo and sticking with flexible nylon or sturdy brass or stainless steel needles.
Knitting Socks on Circular Needles
A more comfortable sock knitting method involves one or two fixed circular needles, a technique which also provides an opportunity to knit both socks in parallel ("2-at-a-time"), ensuring the socks end up the same size and length. Socks knitted on circular needles have fewer opportunities for dropped stitches or laddering, and are generally safer to toss in a project bag.
For those knitting 2-at-a-time socks, either on one or two circular needles, we recommend the individually-packaged classic Addi Sock Rockets which have a precise point, slick finish, and generous 40" and 47" lengths for under $12.
Some knitters prefer the sharper ChiaoGoo 40" Needles for knitting particularly fine-gauge socks, but be aware of their wickedly sharp tip.
Two Circulars
Using two identical circular needles for socks is a looser knitting experience, providing a lot of slack between the two needles and the project — but you'd need to keep two of each size circular around. (Make sure not to mix materials if you use two needles, as the differences in finish will vary the tension in your knitting and corrupt your gauge.)
Magic Loop
The "Magic Loop" technique uses a single circular needle at least 40" to provide enough slack. Knitting "Magic Loop"-style with a cable shorter than 40" will be more difficult and put additional stress on the cable joins, which can break under enough force and tension.
If you've never tried the Magic Loop method, this short online video course will bring you up to speed on how to knit two socks with one knitting needle at the same time.
If you want a one-size-fits-all approach as you fine-tune your sock knitting gauge, the HiyaHiya 40" Magic Loop Set gives you the four most common sock knitting sizes in a sharp, stainless steel tip and a lovely carrying case for about $50.
Because the joins are usually large enough to accommodate some sort of twist or screw connector, interchangeable circular needles are hard to find in sock needle sizes, so your favorite interchangeable knitting needles probably won't work for sock knitting. HiyaHiya does have an $80 interchangeable sock set, which offers one more needle size and a pair 24" cables which, on their own, are too short for sock knitting – hardly a bargain for an extra $30.
Whether you're using one or two circular needles, you'll find that you spend a lot of time pushing the project around the needles. Most of the time, you won't need the entire length of the needle, but when getting to the end of the row, you'll be feeding inches of cable through the live stitches to give yourself the slack you need to take on the next row. The push-pull nature of this rhythm can also put stress on cable joins, so take care when sliding your projects.
Hybrid Sock Knitting Needles
A number of needle manufacturers have tried to find the 'sweet spot' between DPNs and circulars. These clever options attempt to mitigate the dangers of dropped and twisted stitches on DPNS while offering a more compact option that's less prone to tangling and pulling apart at the joins than ultra-long circular needles.
Neko Curved Double-pointed Needles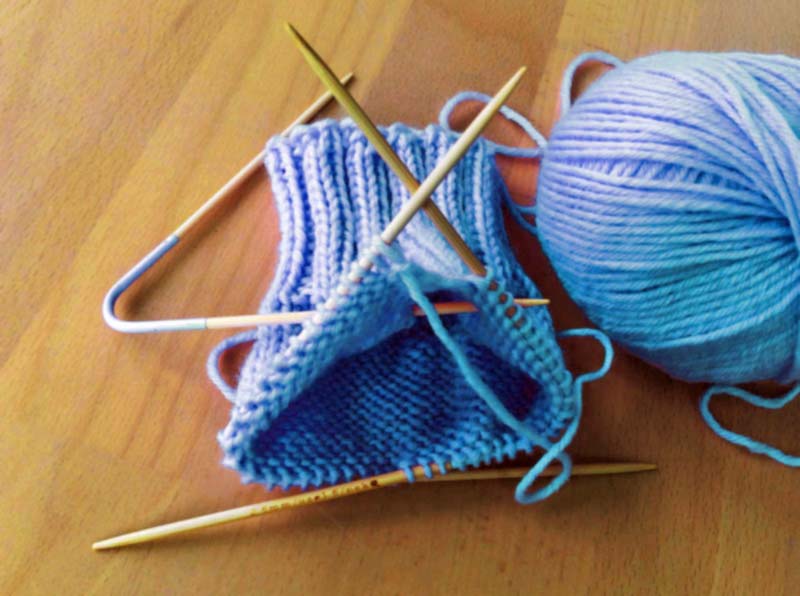 Neko was first to market with their elbow-shaped Neko Sock Curved Double-pointed Needles, available in brightly colored plastic at around $16-25 a set. The plastic material is not overly slick, which prevents stitches from sliding off the tips by accident.
Their unique shape allows for narrow in-the-round projects like socks, sleeves, or cuffs to be knit with just 3 needles, rather than the typical 4 or 5 DPNs, and they don't slide out or roll under furniture easily. The elbow bend allows each tip of the needle to be closer to the next needle, effectively eliminating the "ladder" effect as the whole project keeps it's nearly tubular shape throughout the knitting process.
The Neko DPNs' somewhat unusual shape is reminiscent of a cable needle; once accustomed to Neko needles, many knitters find that their narrow-circumference projects work up faster with these. They do share one important characteristic with classic DPNs — as narrow pieces of plastic, they can break under too much force.
If you have a heavy hand or tight gauge, you may need to loosen up to use them (though, that's probably a good idea for your hands anyways).
Addi Flexiflip Needles
For knitters who find plastic an uncomfortable or 'grabby' material, trusted German brand Addi recently released a similar 3-needle option using their classic nickel- or bronze-coated brass circular needles and a short, flexible cable. They're marketed as the Addi Flexiflips in the US, and the Addi CrazyTrio elsewhere, priced at $25-30 a set.
These don't have the permanent hard bend in them that the Neko needles have; in fact, they look like very, very short circular needles.
The 1" cable is flanked by two 3.5" long metal needle tips, each with a different tip profile. One side will have the more blunt Addi Turbo tip, which is better for yarn that splits; the other side has the sharper Addi Rocket point, giving you better precision for finer-gauge projects.
We like the option to essentially have two needles in one, particularly for those who knit a variety of hats, gloves, socks, and sleeves. Addi Knitting Needles are known for their particularly smooth coating, so if you're prone to loose knitting, you may not want to risk dropping stitches due to the slick finish.
The perfect needle length for sock knitting
If ultra-long needles are too tangle-prone and the trio of faux-DPNs still too fiddly, is there a happy middle ground?
Some knitters claim to have found the Goldilocks of knitting needles in the often raved-about 9" circular knitting needle. Users of this technique praise the compact nature of the project and rejoice over not switching needles two to four times per round.
If your sock or sleeve knitting projects often have simple ribbing or stockinette you want to speed through, you may want to try out the ultra smooth stainless steel HiyaHiya 9" Circular Needles or the ChiaoGoo 9" Circular Needles, coming in around $10 and $8, respectively.
You can't go wrong with either needle, as both offer warranties and an excellent build. HiyaHiya needle tips are just a little sharper, though that isn't necessarily better. If you tend to unconsciously 'push' your needle points with your finger tips, you may find that the sharp tips hurt after a few minutes of knitting.
Also a note to knitters who experience hand pain while knitting: beware, the actual tips on these 9" needles are only 1.5" in length on either end of a 6" cable (have you ever tried to write with a stubby pencil?) Those whose hands cramp easily may prefer the Addi EasyKnit needle, which is a 10" circular needle with one shorter (1.75") and one longer (2.75") needle tip flanking a 5.5" cable. Giving you nearly the same adaptability as a symmetrical 9" circular, the Addi EasyKnits also give you a more comfortable needle tip for your dominant hand.
Whichever you choose, just remember that despite your best efforts, your 9-10" needle won't contort enough for you to cast on or graft the toe of your sock. While we don't recommend them to new sock knitters because the cost nearly doubles, if you already have a set of DPNs or a 40" needle, then a 9-10" circular might be just the needle to get you excited about your next sock project.