Looking to bring more colors into your knitting? Colorwork knitting is all about mastering tension to ensure your patterns pop. Whether you are looking to add a simple intarsia motif to your knitwear or are embarking on a fully Fair Isle project, you'll want a needle that works with you, not against you, to keep that perfect gauge.
Introduction to Fair Isle and intarsia knitting 
Once you've tackled the basics of stockinette, colorwork knitting is a great way to liven up your work with a beautiful breadth of colors. Knitted motifs can be found globally in all knitting traditions, ranging from Scandinavian traditional motifs to Egyptian pieces as old as the 11th century. Though colorwork may seem intricate and intimidating, the proper tools can help any knitter get started on the right foot.
The two popular methods to knit with multiple colors are are stranded — sometimes known as Fair Isle — and intarsia:
Stranded knitting has the knitter carry their working yarns across the whole piece, creating "strands" or "floats" along the wrong side of the garment which double as an extra cozy layer.
Intarsia knitting is a technique that creates blocks of color using separate units of yarn, usually held on bobbins or in small balls. 
Whether you are knitting intarsia or stranded colorwork projects, you'll want to find needles that give you crystal clear patterns and pucker-free finished products. Below, we detail what goes into choosing the right needle for intarsia or Fair Isle knitting, recommend our favorite circular needles for colorwork, and highlight some handy knitter's tools that can help you even out your tension.
Stick with circular needles for colorwork knitting
Historically, knitting of all kinds was done on straight needles, but there are some good reasons to avoid traditional straight needles for colorwork. Most modern knitters find that knitting colorwork projects in the round is simpler and their tension is more even.
Stranded or Fair Isle knitting patterns usually call for the project to be knit in the round on circular needles because purling whole rows with multiple strands of yarn can be tedious. Also, plenty of knitters have slightly different tension on their purl and knit rows, which makes working back-and-forth potentially problematic. Many Fair Isle open-front cardigans will direct the knitter to knit the body of the sweater completely in the round and then later steek, or cut, vertically through the center front of the garment. While it may sound intimidating, the finished placket is lovely and not prone to unravelling once the raw edges are secured.
When knitting any project with straight needles, the work tends to fall towards the bottom of the needles at either end. In stranded knitting, this leads to bunched up knitting at the ends and uneven float lengths where there is more weight pulling to one side. Knitting with circulars helps evenly distribute the weight of your work across the entire cable, and ensures an even tension and consistent floats all around. 
Don't be so tense - lessons in knitting tension 
While all knitting projects require you to hold even tension across stitches, it's especially important to keep your gauge consistent when knitting with multiple colors. Pulling your yarn too tightly in stranded knitting will shorten the floats and leave you with a puckered final object. Failing to cross over your old yarn with your new yarn while knitting in intarsia will give you an unsightly ladderlike border between your color changes. 
One way to avoid these pitfalls is to pay particular attention to your swatch. (And yes, just so we're clear — you should always swatch. Always!)
Knitters working with multiple colors frequently find they have a tighter gauge than plain stockinette. Combine that with knitting in the round, or even just the novice's propensity to knit tightly, and you may need to go up at least one to two needles sizes to find the correct gauge. Experiment with your colorwork swatch by knitting it in the round on several different sizes (yes, that means more than one swatch) to ensure you land on the correct gauge and end up with a beautifully even product.
It's essential that you not shortcut the swatching process by knitting the swatch flat when you know you'll be knitting the actual project in the round. It's always better to put in the work ahead of time to make sure you aren't spending dozens of hours of work on something that ultimately comes out the wrong size or lumpy.
To help prevent puckering in your Fair Isle colorwork, spread out the stitches on your right needle after you have worked them so that your floats are as long as possible. Do not leave them bunched up as you continue to work the stitches to your left.
Consider non-needle tools to keep your tension consistent
Knitting with multiple yarns may inspire you to use tools you have not encountered before, like bobbins and stranding guides.
Yarn bobbins are typically used in intarsia to hold the small amounts of yarn used between color changes. Bobbins range in shape from rectangles to circles to whimsical shapes like sheep.
Strand guides help separate different working yarns when knitting in Fair Isle. They typically look like rings with various prongs worn on the tip of your finger like a thimble. Strand guides take various forms and can be made of metal or plastic.
Another way to help even out your Fair Isle knitting is to choose a forgiving fiber like wool. Many tension issues such as gaps and ladders will even out of a wool project with a thorough wet block. Other common fibers like alpaca, cotton, linen, or acrylic do not have the elasticity that wool does, and will be much more challenging to keep a consistent tension with.
Finally, if you have a hard time differentiating your stitches, then opt for a high contrast color combination to help easily distinguish where you are in the pattern. The effect is usually stunning once finished and blocked.
Dependable needles for the first-time Fair Isle knitter
When embarking on your first colorwork project, the sheer amount of choices can be overwhelming. Much like other projects, you have to choose the best project and yarn, but you also need to spend time figuring out your ideal color palette. With so many new techniques and the likelihood that your first swatch won't hit perfect gauge right out of the gate, it's best to go for a workhorse needle set with a wide breadth of sizes that won't give you any unnecessary grief. The ChiaoGoo Bamboo Spin Interchangeables line is a reliable, quality set sure to have the right needle for your first Fair Isle project. 
ChiaoGoo makes a variety of wonderful circular bamboo needle sets which we frequently recommend in our other guides due to their ultra-flexible, iconic red cable and superior craftsmanship. An individual ChiaoGoo bamboo circular needle retails for under $10 from either your favorite local yarn store or Amazon, though if you're unsure of your gauge, you may find buying a whole interchangeable kit to be a more cost-effective choice in the long run.
Bamboo needles are ideal for beginning knitters as the material will help grip the stitches and keep them steady while you learn to maneuver between multiple strands. Preventing dropped stitches is especially important for novices as it can be difficult to differentiate the floats from the strands which you need to pick up to keep the colorwork chart consistent.  
ChiaoGoo circulars are the perfect selection for any colorwork project you have in mind. The patina-finished needles range from US0 through US15, and the cable lengths can accommodate anything from sock-knitting (9 inch cables) to magic loop (40 inch cables) and every length in between (16, 24, and 32 inch).
The ChiaoGoo cables are connected to their needle tips with a nickel-plated copper join, giving a smooth linkage between needle and cable and ensuring a snag-free experience that won't catch stitches or floats. These ultra-flexible clear nylon cables freely swivel within the joins and are especially useful for not kinking up and distracting you from the challenges of a new technique.
A petite set of knitting needles for small-circumference colorwork projects
Smaller projects are ideal for those who enjoy dabbling in new techniques. There are a plethora of colorwork patterns like hats and cowls that are small in circumference, making for a gratifyingly quick knit and an easy commitment — provided you have the right length of needles.
The shortest cord included in most interchangeable sets of needles is 24 inches long - 50% longer than the ideal hat needle length of 16 inches. While you can use the magic loop method and a 40 inch needle on narrow projects, which we recommend in our guide to the best sock knitting needles, that technique can lead to ladders up the sides of your work where the excess cable sticks out from the work.
Enter the lovely, petite Lykke 3.5" Interchangeable Set. Pronounced "LOO-ka", meaning "happiness" in Norwegian, this weathered grey set is a delight to knit with. Shorter than those included in a traditional interchangeable set, the LYKKE cords allow for more even tension on smaller projects — which in turn makes for crisper colorwork. This interchangeable set comes equipped to assemble 16", 20", and 24" inch needles ranging from size US4-US10½.  
LYKKE needles are made of a highly laminated birch wood which gives them a lovely warm feeling in the hands. These are the Goldilocks of needle textures - not as grippy as traditional bamboo needles, but not as slick as their metal counterparts. The result is a knitting experience which moves yarn quickly across the needle, yet without the risk of stitches sliding off when you lay your project down to rest.
Similarly, the Lykke needle tips are neither too sharp nor too blunt, allowing you to easily maneuver stitches without splitting either your working yarn or the floats behind it.
Knitting needles for those already skilled at stranded colorwork
If you are far into your colorwork knitting journey and feel confident in your ability to finesse Fair Isle or intarsia, then perhaps you are less concerned about fending off tension issues and more keen on ensuring a quick, smooth stitching experience. 
For those intent on speeding up their colorwork knitting, we recommend the Addi Turbo Rocket individual circular needles. In our guide to the best interchangeable knitting needles, we picked the Addi Click Turbo set for it's versatility, quality, and fast finish. While the joins on that set are not problematic, the truly seamless joins of the continuous circular Addi Turbo Rocket needles ensure your stitches slide effortlessly across the junction, taking away any risk of your stitches snagging and messing with the tension of your colorwork pattern.
Addi Rockets range from US000 up to US13. Their lengths cover an extensive range from the standard 16, 24, 32, and 40 inch, as well as the less common 47 and 60 inch lengths, which are ideal for sweaters size 2XL and above.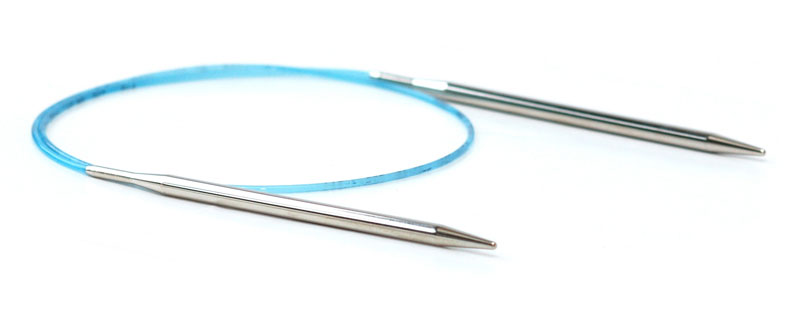 We love the entire Addi Turbo line's impressive quality and precise design. Completely hollow and made of brass, these needles are lightweight and move quickly under any yarn fiber. The latest generation of Addi Turbo Clicks and Rockets have a long-lasting white bronze coating rather than the (still speedy, but prone to tarnish over long years) nickel-plated finish. An ideal metal needle choice for those with a nickel allergy, this white bronze process is also better for the environment as it uses less electricity during plating. 
Traditional products to quicken your pace
While the knitting industry has released a bevy of new products to improve our knitting, some of the most clever tools have been around for centuries. While various needle materials can speed up the process (which we go over in detail in our guide to the fastest knitting needles), really accelerating your colorwork knitting pace may require a blend of old techniques and new-to-you accessories.  
Shetland knitters of yesteryear are said to have knit up to 200 stitches a minute using steel double pointed needles ranging from 20 to 40 centimeters long, according to representatives from Jamieson & Smith Shetland Woolbrokers. To this day, this historic cottage industry and Fair Isle knitting tradition has brought international acclaim to the Shetland Islands of Scotland.
One secret to the Shetland knitters' agility is the use of a knitting belt: a small leather pouch with holes in the top worn on the hip similar to a modern day fanny pack. A knitting belt props up a project up by securing one end of the right double pointed needle into one of the belt holes. When using a knitting belt, the knitter can focus more of their attention on the colorwork sequence and pushing stitches up and down their needles, and less time actually working against gravity to hold their knitting upright. 
Luckily for today's knitters who are looking to speed up their Fair Isle process, US or Shetland-made knitting belts and long, aluminum double pointed needles can be purchased online from both Addi and Prym.
Whether or not you are keen on trying this method, we highly recommend checking out videos of Shetland knitters in action. Give the knitting belt a try and who knows? Maybe you will give the fastest knitter in the world a run for her money.
Guest author Mary Claire Phillips contributed this article. If you're interested in reviewing and writing for the Knitting Needle Guide, please get in touch!
---