KnitPicks is a popular brand of affordable knitting needles available in a variety of colors. Like the KnitPro and Knitter's Pride needles, most of the KnitPicks lines are made from laminated birch with smooth finishes. Fixed and interchangeable circular needles have smooth metal joins and flexible, low-memory cables in magenta, black, and green.
Vibrant wood needles in many colors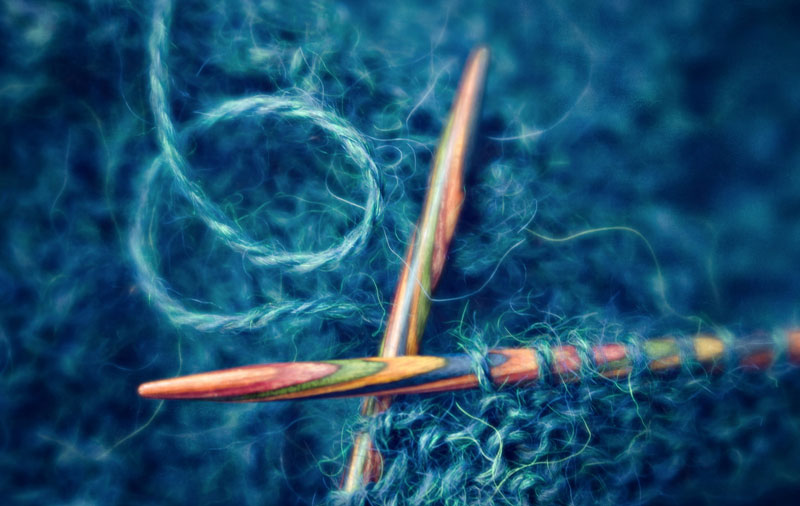 If you're looking for a vivid set of knitting needles, KnitPicks provides a complete line of straight, double-pointed, fixed and interchangeable circulars in four different wood tones under the "Options" name:
All have the same smooth, tapered points and finishes.
KnitPicks Interchangeable Sets
KnitPicks Options Interchangeable needles, regardless of color, all use the same style of keyed connector, so you can mix and match with different colors and the super slick KnitPicks Nickel-plated needles. Nickel-plated needles offer the highest speed available to knitters due to the low resistance of the finish, and may need occasional polishing.
While a more affordable brand of needles, KnitPicks cables can come detached from their joins if treated carelessly. Similarly, the characteristics of laminated wood can mean that some needles weaken overtime or with poor care. After long use, some knitters report that the finish wears off the tips of their KnitPicks birch needles, though they should still last much longer than lighter bamboo tips. Manufacturer defects are covered under KnitPicks' one-year warranty, which is shorter than the lifetime warranty available on higher-end needles like Addi and ChiaoGoo. For these reasons, we recommend other sets in our guide to the best interchangeable knitting needles.
An overview of the different sets of needles is below:
A keyed set that fits with Knitter's Pride and KnitPro
Like many interchangeable sets, KnitPicks Options require a cable key to secure the cable joins to the needle tips, so be sure to keep one in your knit kit. KnitPicks needles were originally manufactured by the same factory that made Knitter's Pride and KnitPro needles; for this reason, their needles and cables can be used across all three brands. KnitPro and Knitter's Pride have similarly vivid-toned laminated birch needles for knitters wanting a variety of colors to choose from.
You can find all the same KnitPicks styles in 4", 5", and 6" DPN needle sets for small projects like socks (coming in 4 sizes, US0-US3, with 6 needles in each size).
KnitPicks has released a more luxury needle in their limited edition Rosewood Knitting needle in 10" straight and 5" interchangeable styles. They have recently discontinued the acrylic KnitPicks Zephyr needles, which were available in fixed and interchangeable circular styles.
Can't decide between wood and nickel-plated? Check out the Knitpicks "Try it" set which offers a pair of interchangeable needles in both styles.
---