If you're looking for the sharpest knitting needle on the market, you can't beat HiyaHiya Sharps. Engineered by a small family factory in Shanghai, China, the brand is easily recognized by their knitting Panda Li mascot, which adorns HiyaHiya cable stoppers, point protectors, and end caps on the interchangeable straights.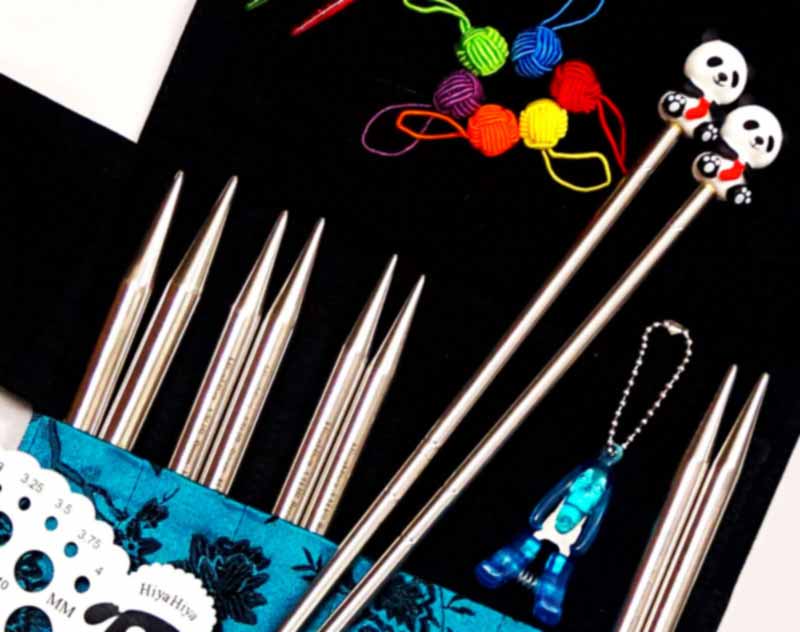 The industry's sharpest knitting needles
The fine point is excellent for delicate patterns with many decreases or small-gauge projects on tightly-wound yarn. Depending on the way you hold your needles, these may even be too sharp for those who frequently push the needle tips down with a finger. The subtly rounded regular HiyaHiya needles are made from the same stainless steel as the Sharps and are slightly more blunt than the ChiaoGoo Twists, another popular stainless steel needle. If you're interested in a sharply-tipped knitting needle, check out our guide to the sharpest knitting needles.
A sturdy bamboo needle that maintains flexibility
HiyaHiya is famous for their ultra-sharp stainless steel needle points and also offers needles in resin-injected bamboo, all in double-pointed needles, fixed circulars, interchangeable circulars, and the unique interchangeable straight needles. Resin-injection strengthens the core of the bamboo needle, making it more sturdy than traditional bamboo needles.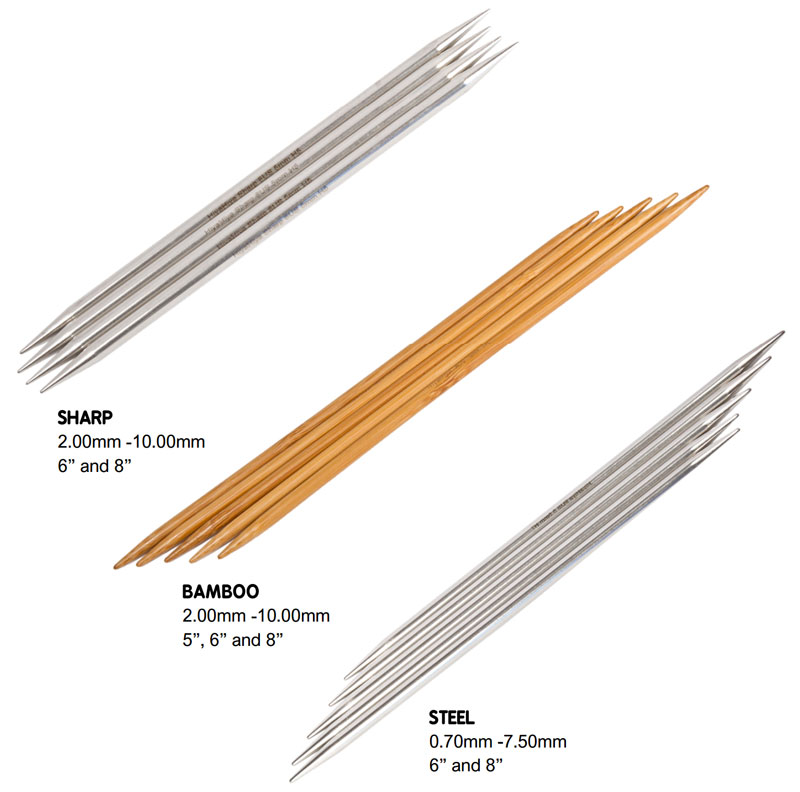 Rather than a locking key, as is common in many other interchangeable brands, HiyaHiya interchangeable sets use removable rubber grips to help screw the needles and cables in place. When tightened with the grips, the needles stay securely in place. HiyaHiya interchangeable cables and fixed circulars have not always had the smoothest joins, so be sure to inspect the nylon cables closely. HiyaHiya offers a fantastic warranty for such manufacturer defects. HiyaHiya has three interchangeable cable join sizes (mini, small, and large), with an adapter that allows larger needle tips to work with smaller cables.
World-class cables
The flexible swiveling nylon cables come in a variety of colors including clear, red, green, and blue, as well as cables with lifeline holes. Lifeline holes allow a knitter to thread floss or other thin yarn through the cable to "save" their place. The HiyaHiya cables, like other nylon cables, can kink up or coil if not stored loosely. For a smoother cord with less memory and fewer reports of snagging joins, we recommend the ChiaoGoo line of needles, though you will lose the ultra-sharp HiyaHiya point.
HiyaHiya fixed circular kits are available in two styles perfect for sock knitting, with sizes 2.25mm, 2.5mm, 2.75mm, and 3.5mm in bamboo or Sharp stainless steel: the HiyaHiya Magic Loop set with 40" fixed circulars in each size and the HiyaHiya 9" set with two fixed circulars in each size. We recommend the fixed circular HiyaHiya 40" Magic Loop set in our guide to the best knitting needles for socks.
A variety of interchangeable sets
Like other high-quality needle sets, you can buy these needles individually or in sets. HiyaHiya has a number of specially-curated sets, each with assorted brocade fabric cases and a variety of knitting accessories in 4" and 5" interchangeable tips or 6" and 8" double-pointed needles.
An interchangeable straight needle

The circular interchangeable tips can also become a pair of single-pointed knitting needles. The more modular and portable HiyaHiya Single Point Knitting Needle is a unique take on a traditional straight needle for those who prefer the HiyaHiya tips.
---