ChiaoGoo surgical-grade stainless steel needles have a smooth, satin finish that minimizes reflections. If you have a sensitivity or allergy to nickel but still prefer a lightweight metal needle, these are a great choice instead of nickel-plated needles. ChiaoGoo tips are among the sharpest in the industry, and favored by knitters requiring precision for lace or sock projects.
ChiaoGoo was started by four brothers raised in China's Bamboo Capital of Linan. A combination of their mother's knitting needs and father's bamboo craftsmanship led to the foundation of the ChiaoGoo: meaning "highly skillful and crafty lady" in honor of their mom's handicraft.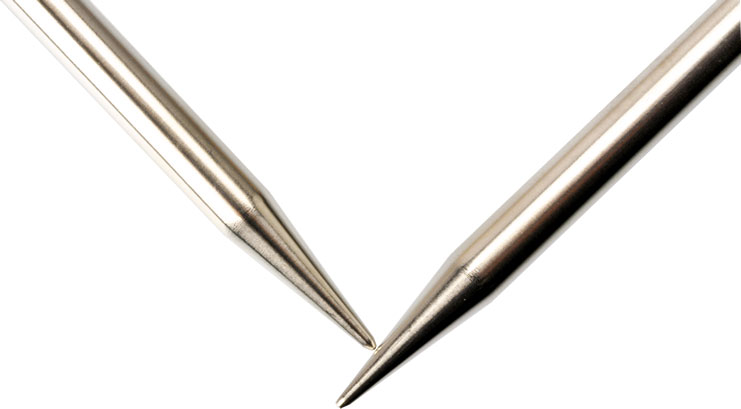 The industry's most flexible circular cable
ChiaoGoo is famous for their red circular and interchangeable cables and stainless steel needle tips. The vastly popular nylon-coated, multi-strand steel cable is "memory-free", preventing kinks or coiling for projects that have to be packed up tightly. From our perspective, the iconic ChiaoGoo red cable is best in class.
ChiaoGoo Twist are surgical-grade stainless steel interchangeable needles in 4" and 5" tips, sharp enough for lace knitting, which connect together by screwing the threaded needles onto the metal cable join. Like nickel-plated needles, stainless steel is very smooth and provides almost no resistance while knitting. You will knit faster on metal needles, but your stitches may slip off the tips more easily, so be sure to grab some point protectors.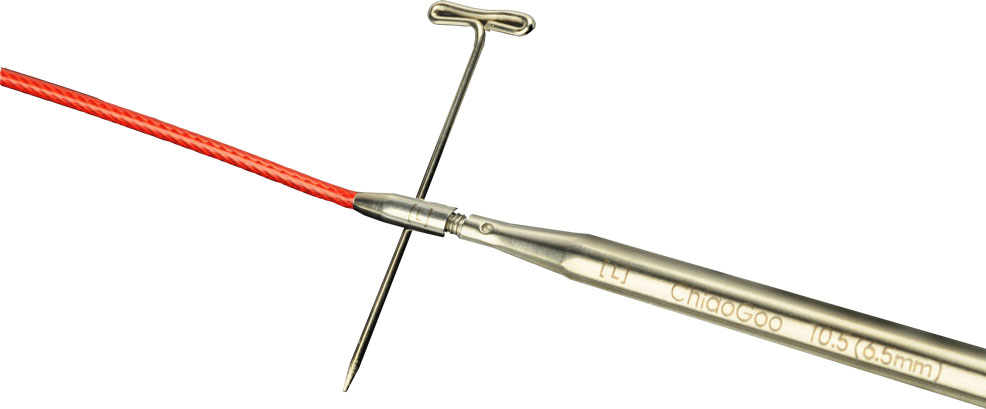 The Twist line also has lifeline holes near each end of the cable in the join, allowing a knitter to easily thread yarn through the live stitches of the current row. Lifeline holes are a clever, built-in way to periodically 'save' your work, also seen in the Addi Lace interchangeable set. Like many interchangeable sets, you will need a 'key' to securely attach and detach needles from cables, and these T-shaped keys can get lost, so we recommend storing them well (like in the superior ChiaoGoo case that comes with the set) or if you're the type to misplace small objects, opt for a set without keys.
Coming in summer/fall of 2017, ChiaoGoo is releasing a set of 4" interchangeable "Mini" needles with a second tightening hole near the threaded end of the needle tip (the existing ChiaoGoo sets have a tightening hole on the cable join), securing the connection even further. Naturally, we haven't tested this setup yet, but ChiaoGoo is the first in the industry to offer a double-key mechanism. The five pairs of needles in sizes US000, US00, US0, US1, and US1½ will come in a compact black pouch with three red nylon lifeline cables, 6 stitch markers, and other accessories.
ChiaoGoo also offers surgical-grade stainless steel double-pointed needles in 6" and 8" lengths, as well as fixed circular needles. ChiaoGoo Knit Red and the sharper ChiaoGoo Red Lace stainless steel circulars have the ChiaoGoo signature memory-free, nylon-coated steel cable. While all ChiaoGoo needles are precision-machined to a fine point, Red Lace Stainless Steel Circulars are among the sharpest knitting needles we've tested and a favorite of many knitters. Find out why a sharp tip matters for lace knitting in our guide to the best lace knitting needles and our guide to the sharpest knitting needles. Keep in mind that for splitty or thick yarns, an ultra-sharp tip may not be the best choice.
Bamboo ChiaoGoo Needles
ChiaoGoo Spin Interchangeable needles have 4" and 5" tips like the stainless steel ChiaoGoo Twist, and are made from bamboo with clear nylon cables with lifeline holes and swivel joins. ChiaoGoo also has fixed bamboo fixed circular, straight, and double-pointed needles in the color "Patina". The smaller of sizes, US0-US2½ have the same memory-free cable as the ChiaoGoo Twist Interchangeable needles, while larger sizes have the pliable nylon cable with nickel-plated copper swivel joins from the ChiaoGoo Spin Interchangeables.
Needles and cables from the ChiaGoo Twist and Spin Interchangeable sets can be used together, so long as they have the screw size — S (small, for US2-US8) or L (large, US9-US15). Needles and cables have their code laser-etched near the joins. For intermediate to advanced knitters, the speed and precision of ChiaoGoo needles outweighs the complexity of the joins.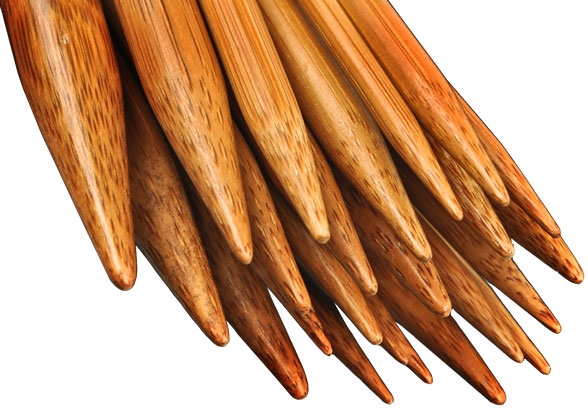 ChiaoGoo also has straight needles in two shades of Bamboo (Natural and Patina) and wood in a number of lengths: 7", 9", 12", and 13". The unique ChiaoGoo 20" flexible single-point needles are a hybrid between a straight and fixed circular needle, with a smooth Patina bamboo tip and nickel-plated join, pliable nylon cable, and lightweight wood endcap. ChiaoGoo Single points are a great choice for those looking for the portability of a circular set.
ChiaoGoo Double-Pointed needles also come in Natural or Patina Bamboo in 5", 6", and 8" lengths. For sock knitters, the ChiaoGoo DPN Sock sets, available in 6" Bamboo and Stainless Steel, include 5 sets of the most common sizes: US1, US1½, US2, US2½, and US3, as well as a dozen stitch markers and a needle gauge all inside a zip-up fabric case.
If your red ChiaoGoo cables arrived feeling somewhat 'sticky', try wiping them with rubbing alcohol on a cotton ball to remove the residue.
ChiaoGoo offers a lifetime warranty.
---