Addi is most popular for their signature Addi Turbos, ultra-slick, nickel-coated brass needles available in fixed, interchangeable circular, and straight needles. The finish on these sets has the lowest friction of any knitting needle we've tried, making the Addi Turbos the needle of choice for many speed knitters. Less grab on the needles is also helpful when working with particularly fuzzy, sticky or inelastic yarns like kitchen cotton, mohair, and synthetic fibers.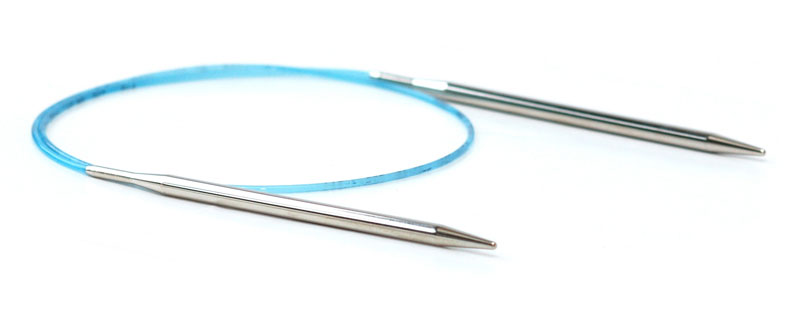 Addi Turbos
The fixed circular Addi Turbos and the interchangeable circular Addi Clicks have an extremely pliable blue (US) or red (Europe) cable with sturdy joins that can withstand a surprising amount of force and don't become brittle with age. The tips are nicely rounded, making them a preferred choice when working with splitty or chunky yarn.
Addi Click & Addi Click Lace Interchangeables
Addi Click interchangeable needles (which are also available in Bamboo and Olive wood) have a twisting spring lock that prevents the needle and cable from loosening over time. Unique to the major interchangeable needle brands, Addi Clicks require no separate tool to swap cords and needles, making for a very simple needle change mid-project. Addi Click interchangeable needles and cables are available individually or in a compact padded case with 10 pairs of needles sizes US4-US15, three cords, and a female-to-female cord connector.
The classic Addi Turbo Interchangeables (our pick for the best interchangeable set for most knitters) got a redesign in the Addi Lace lines, which have a sharper point and longer taper in addition to a slightly more grabby gold-toned finish, making the Addi Lace needles an excellent choice for lace or fine-gauge projects.
The interchangeable needles are available in both short and long tips; the long tips are the same length as the original Turbo series but more tapered. Addi's Short Lace Click needles have the same longer taper but the entire length of the needle is shorter, allowing for circular projects with a smaller circumference than was previously available in an Addi interchangeable set. For those who plan to knit hats or other small garments, only the Short Lace Click set has the 16" and 20" cord lengths.
Three of Addi's special Lifeline cords are included in the long lace set. These Lifeline cords have an invisible slit at each end of the cord near the join, allowing a knitter to easily thread yarn through the live stitches of the current row. Lifeline holes are a clever, built-in way to periodically 'save' your work, also seen in the ChiaoGoo Twist and Spin interchangeable sets.
Addi Rockets
For knitters wanting speed and the same longer, tapered point in a finer gauge, Addi Rockets provide the sharper Addi Lace point and signature ultra-slick nickel coating in a fixed circular knitting needle. The smaller needle sizes were previously titled Addi Sock "Rockets" for their advantage in small-gauge knitting. We recommend these and other needles in our recent guide to the best sock knitting needles, and they also make an appearance in our picks for the fastest speed knitting needles.
Addi Fixed Circulars
Just as the original Addi Clicks are available in bamboo and olive wood, you can find Addi fixed circular needles in more than just the nickel-coated brass that Addi is famous for. The Addi Natura series (in double-pointed, straight, fixed circular, and interchangeable circular styles) feature slow-grown bamboo that is much stronger and less prone to breakage than common bamboo. Bamboo needles are known for being much more 'grippy' than metal needles, which can be advantageous for projects with slippery yarn or a looser gauge.
In addition to the bamboo Naturas, the Addi Olive Wood needles offer another alternative to the flagship nickel-coated metal line; however, the Olive Wood tips have a much more defined taper than their bamboo Natura cousins. Regarded as the darling of the Addi family, the Addi Olive Wood needles are crafted from non-fruit bearing olive trees and finished with a plant-based oil which defines the unique wood grain of each tip and keeps the surface slick for snag-free knitting. The smooth hardwood tips warm to body temperature quickly, making them far more comfortable for knitters with arthritis or hand pain than conventional metal needles. Available both as fixed and interchangeable circular needles, the Addi Olive Wood needles are a gorgeous complement to or upgrade from the original nickel-coated Turbos.
Addis for New Knitters
Designed especially for beginning knitters and children, Addi has developed a 24" fixed circular in the Addi Linos, featuring two colors of coating (brass and nickel) on shorter needle tips. For beginners who aren't ready for circular knitting, Addi also offers the Linos series in a set of of 8" straight plastic needles with a special anti-slip coating and two colored end caps. Both circular and straight Addi Linos are available in sizes US6, US7, and US8, great choices for new knitters.
Addi EasyKnit
Small-circumference knitting has met its match in the 10" fixed circular Addi EasyKnit needles. Perfect for smaller projects, the Addi EasyKnits have an asymmetrical design, with one short and one long needle in the classic nickel-plated coating and ultra-pliable blue nylon cord. Addi EasyKnit needles are available in sizes US0 - US5 and are one of our top choices for small-project knitting, which we recommend in our guide to the best knitting needles for socks.
For a more traditional needle, Addi offers straight and double-pointed needles in a variety of materials including Turbo finish, Natura bamboo, aluminum, and plastic, though not all the same length. See the table below for double-pointed needle lengths available.
| Addi DPNs | 4" long | 6" long | 8" long | 9" long |
| --- | --- | --- | --- | --- |
| Addi Aluminum | US0-US4 | US0-US4 | US0-US10 | - |
| Addi Steel | - | - | US0x4-US2 | - |
| Addi Natura | - | US0-US10¾ | - | US0-US10¾ |
| Addi Plastic | - | - | US10¾-US36 | - |
| Addi FlipStix | - | US0-US11 | US0-US8 | US9-US11 |
Addi FlipStix are colorful ultra-light aluminum needles with two tip styles, the more rounded Turbo and the sharper Lace tip. Addi's only steel needle is the Addi Steel Double-pointed needle, available only in lace sizes (US0x4-US1) for effortless fine-gauge knitting.
Whatever Addi needle you choose, you can be sure of a quality tool with a lifetime warranty.